Photos courtesy Brian Hodes, www.veloimages.com

The Fly V Australia team is doing its best to get noticed early on, putting on a lavish team presentation in Beverly Hills Friday night and already winning nine times – including at the big money criterium in Singapore on Sunday.
Perhaps lost in all the attention about the team that hopes to again be in this year's Amgen Tour of California, was the remarkable coincidence that team owner Chris White was diagnosed with testicular cancer on the same day as Lance Armstrong. White's story was told in a front-of-the-sports-page story in last week's Los Angeles Daily News.
More from the team presentation (including photos) at the jump...
How many teams have flight attendants (actually models) at their team presentations?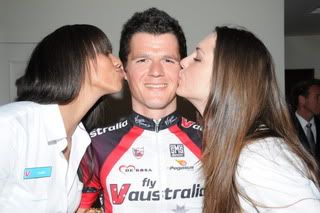 "Italian Stallion" Alessandro Bazzana gets bussed before his introduction.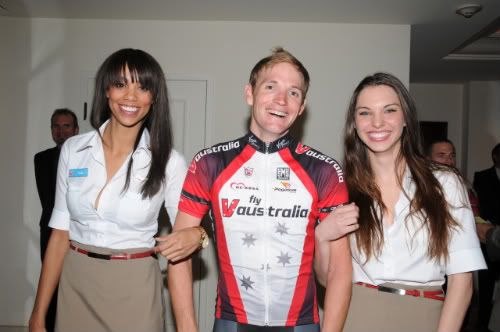 Aaron Kemps had a grin a mile wide during his escort to the stage.