Stage Six- Alright!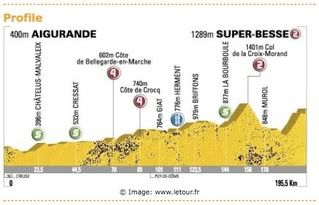 Images and quote from CyclingFever.  Thanks!
Its been a most interesting Tour and its (possibly) about to get even more interesting with stage six and the final climb to Super-Besse. After witnessing a couple stages with small climbs that selected out the die-on-any-hill sprinters, we now get a stage with a mid-course cat 2 climb and another cat-2 final climb that will remove any doubts that the winner here is an all-rounder or climby specialist:
...not the most difficult climb, but one of the second category. The statistics say it's a climb of eleven kilometres at 4.7 percent. The side that the riders climb today, from Lomprat, is more difficult than the better known side that starts in Besse en Chandesse.

From Lomprat the first four kilometres of the climb have an average of 4.9 percent. When at seven kilometres from the finish Besse et St-Anastainse is reached, the riders will pass through the town with a percentage that should be about 6.2 percent (the profile published by ASO is not correct, I guessed it's an altitude difference of 116 metres in 1850 metres). The road rises until 3.7 kilometres from the finish line, where a short plateau and descent follows. With some more guessing it goes from 1080 metres to 1200 metres over 1.45 kilometres (another 150 metres in kilometre 5 from the line until 3.7 kilometres from the line is 1450 metres), which gives it an average of 8.3 percent.

The riders had a short opportunity to catch their breath, before they have to attack the last 2000 metres of the stage. This is the most difficult part of the climb. The second last kilometre has an average of four percent and a little math learns us that the last kilometre should have an average of 8.4 percent. The profile published by ASO however tells us the last 1.5 kilometres have an average of ten percent. That leaves us guessing and confused, but I tend to believe more in math than in the profile of the ASO.
So what's gonna happen?  There are a few scenerios I can imagine:
1) Conservative. Yeah the flatlanders will get weeded out but all the rest will eye each other too closely and decide that this isn't a day to attack- especially the GC hopefulls. Oh there will be an exciting finish but a bunch sprint amoung the non-sprinters is not all that exciting: like seeing Mark Cavendish in slo-mo.
2) Breakaway of the unimportant riders. There are various all-rounders in the field (I'm looking at YOU Jens!) who have no GC aspirations who might take a flyer here. Guys like Pozzatto perhaps or Hincapie who could stay away. Current yellow jersey guy Schumacher could will contest here. As long as no GC threat goes with them all is cool and those guys all ride across the finish together- or close to it with no big time gaps.  Think Bosisio from the Giro, or Gerdemann from stage 7 last year. What might be interesting here is if any of the most climby of the sprinters (Freire and maybe someone else) can hang.
3) Release hell. I think its a given that the Pozzattos and Schumachers will contest this stage. But if a GC guy goes though things could get hairy. More time gaps will appear. Kirchen has already said he's going on this stage; it fits him well I think. Evans is no slouch in these type of hills either.  Ricco, both Schlecks, Valverde... there's several GC guys who could bolt. The question will be if they can open up a minute on their rivals or will they neutralize each other.  It could also be interesting to see the teams play this out: who helps whom. It will also be interesting to see who is realy thought of as a GC threat. For instance, is Kirchen regarded as a true threat by Evans?
Or something entirely different might happen.  What do you think?