RGLondon78 nominated these - they're a brand-new British team, and you can read all about them on their facebook.
***
Last year, Team SmartStop took the USA men's circuit by storm, with their DS, former pro Mike Creed justifiably jubilant at proving all his critics wrong, as they won races including the USA National Championships, the overall National Road Calendar series, and lots of the USA stage races along the way.  And now they've started a women's team too, brand-new for the 2015 season, with DS Jono Coulter, formerly of Vanderkitten.  No photos yet, but here's their kit, and they're bound to have photos very soon on their instagram.
@_pigeons_ of the ones you chose- we can't pick a winner! Of course, we love ours too http://t.co/iAjZ31XhNi pic.twitter.com/n3xIZ0VilC

— BMW p/b Happy Tooth (@BMWHappyTooth) February 8, 2015
***
The first of two kit designed by Velocio-SRAM rider Tiffany Cromwell - this one for Aussie team Boss Racing. They have a team racing the elite National Road Series racing, and a development squad racing locally around Canberra and Sydney, and they also run advanced skills sessions for women - which together make such a great pathway.
@_pigeons_ definitely missing this contender! Another dazzling design by @tiffanycromwell & @SeightCustom #ausNRS pic.twitter.com/OVjWjtO8rU

— Boss Racing Team (@BOSScycling) February 15, 2015
***
BZK ProBasic
Another development team, this time for young Basque women.  It's managed by Eneritz Iturriagaetxebarria Mazaga, a former pro who, along with her family, always worked to develop the sport.  (Fans loved her for being the Basquest rider in the peloton, and for being so much fun).  I can't wait to see how this team evolves over the next few years...
@_pigeons_ I like black and orange so I nominate @TeamCrescent. @TilinaLevin do you have a picture of your 2015 kit? #moreworkforSarah

— Megster (@farcryhomestead) February 13, 2015
Here we go, from this small Swedish team's facebook:
UPDATE!
@_pigeons_ @farcryhomestead Not sure how this works, but here's a pic of our team kit for 2015 pic.twitter.com/RXC8vIj78n

— TeamCrescent D.A.R.E (@TeamCrescent) February 16, 2015
***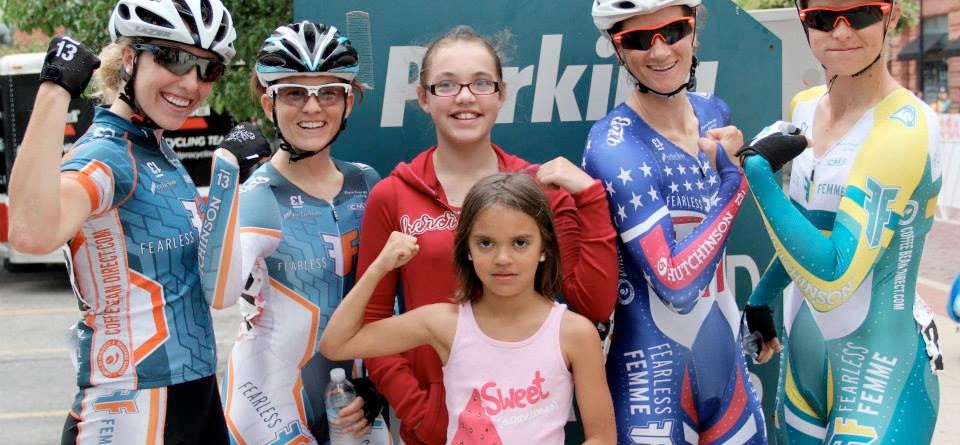 Wannabe Scattista nominated this USA team, part-sponsored by his local bike shop, for their usual kit and their approach to national champions' jerseys.  me, I love the name and the posing!  Watch out for them all over the USA circuit, especially in the crits.
UPDATE! Bribery and corruption!  I love it!
Vote for our @Fly_Vie13 kits and 1 lucky follower will get a free jersey! "@_pigeons_: Nominations for "best of rest"http://t.co/RYuDpb4Wsb"

— FearlessFemmeRacing (@fearlessPEC_V13) February 13, 2015
***
Germany has two of the best races around, the Thüringen Rundfahrt stage race and the Sparkassen Giro World Cup, so I'm really excited that they have a new UCI-ranked team - and one with a fantastic social media presence too.  They're a development team with big ambitions, and you should follow their twitter, where they nominated their kit.
***
They're a late nomination from Alison, but they're such a fun project, they deserve to be in.  Rochelle Gilmore has been running teams at elite and Aussie level for years, and her biggest, Wiggle Honda, is all over the podiums in Europe. Rochelle always has her eye on developing the sport - as a top sprinter, she loves it, and although she's not retired yet, she's been all over the place commentating, and now setting up something very close to her heart - a route for Australians to get to the top of the European peloton, via racing in the National Road Series.  I love this project, and you can listen to me talk to Rochelle about it, or read the transcript of my interview with her.  Read Dr Kimberley Wells' blog on racing with the team in Qatar and watch their video from the Santos Tour Down Under:
***
This Australian team has taken a new approach to kits, using a design from designer Florence Broadhurst (read about her life and mysterious death on wikipedia).  They dominated the 2014 Aussie National Road Series winning the individual and teams classification - will they be able to keep that record up in 2015?  We'll be able to spot them if they do!
@PodiumCafe @_pigeons_ shameless self nomination, 2015 @holdencycling kit feat unique Florence Broadhurst design. pic.twitter.com/lprEorg81p

— Holden Cycling Team (@holdencycling) February 9, 2015
***

mertz019 nominated this USA team.  They have teams for elite women, u23 men, junior elite boys and junior development girls and boys.  They're home to the Schneider sisters, Sam and Skylar, and you can read an interview with them on Tenspeed Hero.
***
@_pigeons_ got to worth adding @Mulebargirl_SS pic.twitter.com/gNNX9EKyNN

— clive stonebridge (@stonojnr) February 13, 2015
A new year and a new kit for this British team!
***
Tandem pilot superstar and team manager/DS Barney Storey nominated his own team, like every good manager should!
@_pigeons_ our contribution to your list of team kits :-) @PodiumAmbition pic.twitter.com/tzqqFCCvuI

— Barney Storey MBE (@BarneyStorey) February 13, 2015
Watch their rider Sarah Storey aim to add to her huge pile of Paralymic/Para-World golds when she goes after the Hour record at the Revolution on 28th February in this kit - and Katie Archibald and Ciara Horne go after more medals in the Track World Cup next week.  And if you want to support the team, you can buy their bikes, compression stuff and even their team onesie - check out their shop.
***
With a win at the @ASUCycling Sun Devil Crit, the @pepperscycling season has officially begun! http://t.co/kX6rxModkb pic.twitter.com/i7FcFAPgVH

— Lindsay Bayer (@thedirtfield) February 9, 2015
It's red, the team's wild, and I have to warn you, when I open the voting, there's already likely to be some incentive for picking these...
@_pigeons_ We're UCI! If our kit gets the most votes, I'll dress up as @pepperpalace's Pepe The Pepper mascot. pic.twitter.com/djdBg1LbWx

— Lindsay Bayer (@thedirtfield) February 9, 2015
Want to know more about the team?  I podcast-interviewed owner-manager-rider Sarah Fader, and new 2015 rider Amber Pierce about their plans for 2015, the US crit scene and more.
UPDATE! Are they going to canvass for votes?
@_pigeons_ @ambermalika I suppose we could rally the fans to vote. But our style goes way beyond our kits... pic.twitter.com/wIZqiceOVc

— Lindsay Bayer (@thedirtfield) February 15, 2015
***
Portland Bicycle Studio
A late entry from nearly dawn - this kit IS very nice!  The team's development and elite, with cyclocross rider Molly Cameron, directing.  They're sponsored by the Portland Bicycle Studio shop, so if you're ever in the neighbourhood, pop in!
***
One of my very favourite women's cycling projects is Kelvin Rundle & Tegan Cox's team Roxsolt.  They started the team in 2013 to help Australian pro women race in the Aussie summer season even if their pro team doesn't race, alongside developing and young riders - this summer they included Chloe Hosking before her Wiggle Honda contract started, Tiffany Cromwell and Loren Rowney of Velocio-SRAM, and Lucy Martin among others.
Their kit has the Roxsolt X in negative space - and every now and then it turns up for sale. If any Aussies want to buy women's cycling kit, they can do that through Tegan and Kelvin's other venture, Roxcycl.cc - I love their Roxcycl Ambassador programme, check it out.
UPDATE! Lonecycler's just told me it was designed by Tiffany Cromwell too, which makes me love it more.  Tiff is a designer when she's not racing (etc) and it's such a Roxsolt thing to have her design the jersey (not least because her designs are awesome)
***
They're another Aussie NRS team, thomaswarren's favourites, so he's nominated this simple red and white kit - always easily spotted in the peloton - which is useful, as their riders tend to go on to great things - watch out especially for Jenelle Crooks, just out of the juniors and already the u23 National ITT Champ.
UPDATE!
How is this nt the best kit @_pigeons_ @PodiumCafe? Vote Specialized Securitor @Specialized_AU http://t.co/kmWZBgDjBn pic.twitter.com/hqyXb2X9NZ

— Verita Stewart (@lowercasev) February 16, 2015
***
@TanyGriff @_pigeons_ @CycleVelosure Here you go - as shown by @PiaDeQuint pic.twitter.com/bGrPWs6I92

— PeoplesTeam (@StarleyPrimal) February 11, 2015
She might be a little bit biased, but British rider Tanya Griffiths loves her 2015 kit, which is, when it comes down to it, one of the most important things for a kit, after being visible in the peloton and good for the sponsors.  Starley Primal, who call themselves the People's Team, will be all over the British domestic circuit.  (I love the Soap Box section of Tanya's website, with her thoughts on the British twitter trend of races complaining that there aren't enough entrants... to weeknight crits that start at 6.30, as an example...)
***
Big Maple nominate this team from Ottawa
***
@_pigeons_ @farcryhomestead @HannaHelamb pic.twitter.com/1AKeYgD8G0

— SwaboLadies (@SwaboLadies) February 15, 2015
***
Ex-pro rider Nicola Cranmer has been running teams in the USA for years, helping all kinds of riders step up - from the legendary PROMAN squad to the current Twenty16 elite and junior squads with a goal of getting USA riders to the Rio Olympics.  Read all about them on their site, and if you like what you see, donate to them.
The 2015 iteration includes 2013 World ITT bronze medallist Carmen Small, as she focuses on her track ambitions, Andrea Dvorak, and young cyclocross star Kaitie Antonneau.  It's a new design for 2015, with more red - watch out for it, and the team riders both at home and when they come to Europe as part of Team USA and with Twenty16...  and especially in the Worlds in Richmond!
***
@_pigeons_ I nominate @teamvcukphmas best British womens kit

— Keith McRae (@GKam84) February 10, 2015
Another British domestic team - purple, neon yellow and white.  I'd embed it, but their photos are on instagram, so click through here and here.  They have a women's team and a junior's team, and blogs about all of it on their website.  And I'm a fan of their riders Laura Morgan and Sinead Burke's blogs too - check 'em out.
***
Big Maple nominated these - they're from Winnipeg in Canada, and the bike print around the bottom of the shirt is awesome.   If you like it too, you can buy the kit here.
***
.@_pigeons_ So many great kits and teams! Our small Berlin based team is figthing for podiums&breast cancer awareness pic.twitter.com/QKsjC3Ens1

— velonistas berlin (@velonistas_team) February 15, 2015
The final late entrant, but they're such a fun team, how could I miss them off?  They're German, naturally, and have a great twitter account that helps German fans of the sport follow it at all levels, as well as supporting the fight against breast cancer.  In fact the team was founded when one of the riders discovered she had breast cancer, and it changed her life.  They run rides for all kinds of women, as well as racing in the German domestic season, and they're very new, so watch their journey, they're only just beginning.  Find out more on their website and facebook.
***
The former FCS Cycling Team is now sponsored by Visit Dallas and Orbea, but they're still home to former ITT World Champion Amber Neben (you must check out her Dare To Be project, which provides bikes to homeless children), Irish Champ Olivia Dillon and Brazilian Champ Flavia Oliveira.  Read all about them here, and on their facebook page.
***
@_pigeons_ Have you seen the @RacingChance kit?? A great cause and steadily growing club actively helping women. pic.twitter.com/mscDeZsryZ

— Fred Bamforth (@freddiebam) February 10, 2015
Finally, you won't be able to vote for them as they're a club rather than a team, but Racing Chance is another great women's cycling initiative, providing paths for UK women to get to road race.  With British Cycling focusing on the track, this UK-registered charity is providing pathways both through supporting riders, and sponsoring races.  There's tons more information on their website, and if you want to get involved, you can donate to them, and very soon you'll be able to buy their kit in their shop too.
***
Voting is now open!  And if you haven't already, head over and vote for the best of the top-tier pro UCI team kits too.