(Psst. This article is kinda long.)
As the 2016 season wound down and Peter Sagan's FSA-DS point totals rose up, I found myself wondering how historic a season he was having and more- like is this Fastvakian one of the greatest cyclists of all time? And if so how would we know? And can VDS shine any kind of light on this? Then I started asking myself these questions and more about various riders active today:
Alberto Contador is the greatest stage racer of the last 10 years, plus or minus. Is there any chance that Nairo Quintana can equal his feats?
How would you rank a guy like cadel Evans? If there was one Pro Cycling Hall of fame would Cadel be enshrined? What would the general qualifications be for such a place?
In VDS and most other counting systems in cycling, sprinters tend to have a lower ceiling than other riders. Is there any way we could correct for that?
What about the kids? Is there any way that VDS can clue us in to which kids are starting to separate themselves from the pack?
Questions like that. This post starts to answer these questions, but also opens up new questions that maybe one of us can get to when we have time. One question that I don't attempt to answer here is comparing using VDS riders of today vs riders of yore. But I start with looking at a couple of websites that try to do that.
Given that there is no Hall of Fame how do we judge who should be in it?
Doesn't it make total sense that there is no one Cycling Hall of Fame-a place or thing that has a list of the all-time great riders that we all more or less agree with? Yes. Yes it does. What a sport we got here. So given that there's no real authority that I can use to measure VDS the next best thing is to go to the interwebs and see various websites that purport to measure and name greatness. There are a few. But before I do that I want to lay out what I see are the  qualities the truly great riders share.
1. They are truly dominant for most of their career.
A great rider is one who, when they line up at the start of a race, is among the favorites throughout their career and for the prime of their career is THE favorite. I mean you can't be an all-time great if you are just one of 10 possible Tour de France champions, right? Robert Gesink isn't a Hall of Famer, right? You'd need to be the #1 favorite for several years and among the short list of favorites at the beginning and end of your career. For example, take Tom Boonen. In the spring classics he was for years the #1 favorite whenever he lined up. Even now at the tail end of his career he's on the short list in most Classic races. That's what I'm talking about.
1A. There are a couple of caveats to rule #1. The first caveat is that there can be a couple of all time great riders riding at the same time. Coppi and Bartali. Boonen and Cancellara. These riders together stand above the best in the races they rode. (Note that "they rode" inclusion.) That's okay as once you think of it there's bound to be a few riders competing at any given time who would deserve inclusion in a Podium Cafe Hall of Fame. (oooh...I like that! PdCHoF is our new acronym.)
1B. Every career is different and for some riders their greatness is about their longevity while for others its about a shorter peak of say 3-5 years. Both types of careers should be considered. Two examples of present day riders: Philippe Gilbert is a rider who for most of his career was a good but not great rider. But his peak in 2011 and the couple of years on either side...sublime. In 2011 he won Strade Bianche, both his national road race and time trials, all three Ardennes classics, San Seb, Quebec, plus a stage at the Tour. And the Tour of Belgium. That's just what he won. He was dangerous everywhere with only a Grand Tour GC win beyond his reach. And that 2011 is just the middle of a four year period where he was so so dominant: a couple of Lombardy wins. A Worlds win. Multiple Amstel and Paris-Tours victories. You remember. Beautiful. Brutally dominant. I still get to overprice him because a bunch of you think he'll return to some semblance of that form. But as I said the rest of his career was/is good but not so dominant.  Untilthis past season he held the VDS single season scoring record. I am not saying that he deserves to be in a PdC HoF-I think he's a borderline candidate who I would include- but that 4-5 year stretch is what makes him eligible.
As an example of longevity take Alejandro Valverde. He just completed his 15th season of scoring points. Of current and recently retired riders only Petacchi has a longer streak (17 years) and while Petacchi had most years where he scored well under 1000 points (13) Valverde only has one-and that was his year he sat out for his drug bust. He's had seven years scoring over 2000 points. That's like Pete Rose's career. Definitely he's had a bunch of big wins: A Vuelta GC. 14 Grand Tour stage wins. Three Vuelta points wins. 14 other Stage race victories. Three L-B-L's, four La Fleche Wallonie's, two San Sebs, Two national road race and one national ITT wins. Various other smaller one day race wins. Four UCI Pro Tour/World Tour wins. Sure, it would be nice if he won a Worlds road race, but he's been on the podium there three times in three years.  Hell, he's been on a ton of podiums. What we are talking about is consistent performance at the highest level and he's not done yet. Its the entire body of work that gets The Green Bullet into most any cycling Hall of Fame.
2. They win the Big Races.
A PdC HoF career is one where there are multiple wins in the Big Races. Here's my list of Big Races in some sort of (arguable) descending order:
Grand Tour GC wins. Obvious.
Monument and Worlds and Olympic road race wins
World Tour race wins. The bigger other races like San Seb, Amstel, E3, Paris-Nice, Pais Vasco, and Suisse Tour.
Grand Tour points competition wins. (But not so much KOM or young rider competitions.)
Worlds and Olympic individual time trial wins. I find time trialling a weird subset of pro cycling races, particularly in modern times. I find the skill set to be a great chronoman is already implied in regular road races. Take for example that Tour stage where Froome and Sagan rode off in the wind  or Cancellara winning a Paris-Roubaix by taking the lead with 40km to go and no one catching him. Just ask J-Rod how important good chrono skills are for winning Grand Tours. Actual time trial races have limited fields with only a few riders actually competing for the win. I'll grudgingly count them but for most of the all-time greats these races aren't needed. And Cancellara is an exception that proves the rule. Mick Roger's multiple World ITT wins don't count for much since he did little else besides being a solid pro.
Other bigger races like say Paris-Tours (which in many years was one of the biggest races)
Some, but not all National championships both because some countries are too small to have a meaningful field in their races but also because top riders often do not race them because they do not fit into their racing schedule.
Other races like say Tour of California or K-B-K, etc. Winning any race is a feather in any rider's cap.
Note that many races' importance can change over time. Races disappear all the time.
Let's now look at a couple of websites that purport to measure cycling greatness.
1) My go-to such place is alas no longer. Our own chef commissare's website, The Virtual Musette, is alas no longer. It was a really good site too!  It was transparent and thought out how to rank the all-time greats in a fun to read site. I am sad because of this. Now traditionally the way of making the cycling part of me happy again has been to raise the price of Mark Cavendish for next year so hold on a sec...there! Did that help? Yes. Yes it did! Time to move on!  ;)
2) If I google Cycling Hall of Fame I get cyclinghalloffame,com - what a surprise! They have a ranking and a system. The ranking starts with Eddy Merckx. Another surprise! Not! On quick review it has your most of your basic 100 all-time greats with its top 10 being: Merckx, Hinault, Coppi, Anquitil, Big Mig, Bartali, Gimondi, Bobet, Binda and Lemond.  Nice list! Heavy on Grand Tour winners though. (Psst: that's called foreshadowing.) Where this place gets interesting are the rankings of current riders:
Contador is the highest ranked in 12th place. (Sean Kelly is in 11th.) Not really a big surprise given his history even if its stage racing only. And noting the stage racing accomplishments of the riders in front of him.
Froome is right behind Bert in 15th. Ahead of Francesco Moser in 16th and Van Looy in 17th. Huh. Froomey may be the best stage racer this year but 15th all time of all riders already? Let's look further...
Nibali is 24th
Valverde 31st
Boonen 32nd
Sagan 48th
Cadel Evans 49th!
Cancellara 57th
Andy Schleck 60th! talented, yes, long enough career to be ranked 60th? Nope.
Quintana 69th Seriously? A Schelck ahead of Don Nario? No way!
Sastre 76th. Carlos I will note won exactly ONE stage race of any kind in his career. Guess which one.
Menchov 79th Sastre has no business of ranking ahead of Menchov. I doubt Cadel should be ranked ahead of Menchov either. But those two won a Tour de France...
Vino 85th
Basso 88th
Okay this is a crazy list. Are there really that many current and recently retired riders-14- among the top 90 all-time? And where is Cavendish or other sprinters/Classics guys? How did they compile this list? Ohhhh:
Here's how.
Its kinda amazing. Note that the total points given out for the Tour de France is greater than the points for all the one day races combined. The three Grand Tours make up 2/3rds of the scoring. Yeah that's a head scratcher (Contador could have retired after his 2008 season and still made the top 25) though in a way there is some kind of logic to it if you note that every year the Tour is so much bigger than the rest of the races. But seriously? We aren't ranking the most popular races here but racers: you know-the people who make the race?  But that logic is taken to an extreme with this ranking and I will leave it to you to pick it apart. Go ahead. I'll wait here.
There is one particular aspect that bothers me and that is this ranking is so static: there are very few races under consideration and with those its basically win or get no points. You won't know if someone is worthy of inclusion in this all-time great list until they've already won the races: you can't see by this ranking how good a young rider is turning out really. You have to wait till most of their career is done before anointing him. Part of my interest in this post is to see if we can see an all-time great as their career is unfolding. Are we witnessing in Nairo Quintana or Sep Vanmarcke or Romain Bardet or Simon Yates in the early stages of an all-time great career? If yes, how do we know it? This website tells us almost nothing about that IMO.
At any rate let's move on to another ranking.
Valverde in 11th
Contador in 25th
Cadel in 30th
J-Rod in 32nd! (Not even ranked in the Hall of fame site above.)
Cancellara in 35th
Gilbert in 48th
Boonen in 51st. Hmm. Kinda low
Sammy Sanchez in 53rd! Almost as good as Tornado Tom? really? I mean I like Samu but...
Vino 54th
Nibali 60th
Oscarito 73rd (Shocking! A sprinter!)
Cunego 78th
I like this ranking better but its got its weirdnesses too. Samu ranked so high is one; same with J-Rod. Boonen's ranked too low. Cunego too high though to be fair besides his 2004 year he's got those Lombardy wins and some other stuff. Cadel feels too high. And no Froome this time. I like to see Jill Bear in here though probably he's too high also. Then we come to Valverde and with him we think we come to how these riders are ranked. (Though where is Sagan? 110th.)
Go to this page for ranking explanations and you'll see a very different ranking system
than what Cycling Hall of Fame does. These folks score almost every race and give out points for really low placings in very small races. Like (ursula throws a dart at the cycling calendar) Johin Ariesen scored 1 point for placing 6th at De Kustpijl, a 1.2 cat race, last September 10th. I'm thinking this ranking gives out too many points for just finishing a race. Hey!  Everyone gets a participation medal!  And that would favor riders like Valverde and Gilbert who get rewarded for having a very heavy race schedule.
And still.  Mark Cavendish is ranked 270th. This website has a 
Contemporary Ranking
and Cav is 50th best there-right behind Lulu. I love Lulu a ton (so does his mom, I'll bet) but not that much. Something's funny in how sprinters are pushed down so much in the pecking order. If a sprinter in the Tour gets his team to organize itself around him than that says something about his value in the peloton.
To sum up: we looked at two very differently compiled all-time lists. Not surprisingly the all time greats are listed in different order. Basically you have to take both lists and get a general ideal of how good say Sean Kelly is compared to Bernard Hinault: beauty is in the eye of the beholder.
But what's good about the second list, the Cycling Rankling one, is that the all time list is much longer because it looks at so many more races and placings within those races. That's its strength. You see that Niki Terpstra is currently ranked 387th and so given his age, 32 early next year, its doubtful that he'll crack the top 250 or 300. But Niki belongs in the Hall of the Pretty Good. You can use this website to se the progress of a rider form neo pro to retirement. You'd see them slowly rise up the rankings.
Which brings us to FSA-DS. Here's a  top 35 list of basically any rider who raced in the VDS era. If they started before VDS started then I did a fairly good estimation of what they would have scored in those dark cold times before 2008:
| Name | Age | Points |
| --- | --- | --- |
| 1. Valverde | 37 | 28504 |
| 2. Contador | 34 | 20578 |
| 3. Boonen | 36 | 19592 |
| 4. Cancellara | 36 | 19531 |
| 5. Zabel | 47 | 19560 |
| 6. Rodriguez | 37 | 18668 |
| 7. Gilbert | 34 | 18211 |
| 8. Sagan | 27 | 17448 |
| 9. Evans | 40 | 15528 |
| 10. Nibali | 32 | 14915 |
| 11. Sam Sanchez | 39 | 14167 |
| 12. Freire | 41 | 14046 |
| 13. Cunego | 35 | 12931 |
| 14. Cavendish | 31 | 12927 |
| 15. Petacchi | 43 | 12551 |
| 16. GVA | 31 | 12098 |
| 17. Vino | 43 | 11660 |
| 18. Hushovd | 39 | 11237 |
| 19. Basso | 39 | 10950 |
| 20. Froome | 31 | 10764 |
| 21. Kristoff | 29 | 10173 |
| 22. F Schleck | 37 | 9670 |
| 23. Menchov | 39 | 9203 |
| 24. Chavanel | 37 | 8868 |
| 25. Quintana | 27 | 8727 |
| 26. Pozzato | 35 | 8565 |
| 27. T Martin | 31 | 8402 |
| 28. Greipel | 34 | 8246 |
| 29. Degenkolb | 28 | 7943 |
| 30. Scarponi | 37 | 7779 |
| 31. Costa | 30 | 7747 |
| 32. Gesink | 30 | 7741 |
| 33. Wiggins | 36 | 7589 |
| 34. Terpstra | 32 | 6893 |
| 35. Mollema | 30 | 6875 |
So can we use this list as a measuring stick for greatness? Do the top ranked riders all deserve inclusion in a PdC HoF? And is there a point cut off below which the riders don't make the grade? I say basically yes. The top five (Valverde, Contador, Boonen, Cancellara, Zabel) should be in any cycling Hall of Fame, no questions. They've had long careers, won many big races. They were dominant in the type of races they targeted for most of their careers.
6-10  (J-Rod, Gilbert, Sagan, Evans, and Nibali) Belong too but. I would to look at the races they won before letting them in; probably they would all get in. You can see though that outside of Sagan who is in the middle of his career these guys are a notch below 1-5. J-Rod is a poor man's Valverde, Evans and Nibali compare to Contador and come up short and Gilbert's career outside of 2011 is not up to Boonen's standards.
11-15? Hmm. Here is where more sprinters start to get mentioned. For the non-sprinters, Samu and The Little Prince, I see them as a step or two below the riders above them. I mean Cunego vs Nibali? The Shark wins every time. Samu is like a poor man's J-Rod. And here is where basically every ranking system starts to run off the rials as there's just more points-any kind of points-available to riders who can climb well. So in using any system, including VDS, the cut off point for climby racers like Samu and J-Rod and Valverde and Vino etc. needs to be higher. Weather to include Cunego and Samu in a Hall of Fame I'll leave to you.
Which gets us to the sprinters in this 11-15 cohort: Freire, Cavendish and Petacchi. So they have fewer points to qualify but also definitely they are below the three sprinters we've already mentioned, Boonen, Zabel, and Sagan. So do these three belong? Tentatively, yes. Oscarito has his three Worlds and three MSRs to fall back on. Those three Worlds titles in particular are huge: no one has won more and only three other guys (Binda, Van Steenbergen, Merckx) have won three. So I would include him. Cavendish of course hasn't finished his career but there's no question that he's been the dominant pure sprinter for a long time. Besides his one Worlds and one MST he's won 30 individual stages at the Tour, 15 more at the Vuelta and three extra at the Giro. He's won the points competition at each Grand Tour. So he can barely climb. Big deal. Any Hall of Fame that excludes him is a stupid head.
Petacchi though is not so clear,. On the plus side, like Cav he's won the points competition at every Grand Tour. To go with that he's won 22 stages at the Giro, 20 more at the Vuelta and 6 at the Tour. He's got an MSR win and a Paris-Tours win. But after that, not so much. He raced like forever but has just 12551 VDS points. Definitely he compares favorably to the next sprinter Thor Hushovd, but Cav will soon distance him and Freire already has. So to me he's the floor of Hall of Fame inclusion like Samu and Cunego for climbier guys: he could be in or not but no one with a worse record as a sprinter should be in. No God of Thunder, sorry.
If you look at the rest of the list, you can identify more current riders that by the time they retire they will probably merit inclusion. Here's my Watch List: GVA, Froome, Kristoff, Quintana, and perhaps Degenkolb. GVA has the toughest road as he's already 31 and what exactly has he won? Right: the Olympics this year. That's a start. Right now he's like Samu (also an Olympic champ) but less. he's got time but he needs to bag a couple more big races. What's going for him is that he's probably the best rider in the peloton across all five Monuments and basically any one day race.
Quintana and Froome should make it, Quintana especially as he might overtake Contador for career stage race wins. (He's halfway there.) Froome looks good but like with GVA age is working against him. Right now he doesn't belong but at his current rate he'll compare favorably to Cunego or Nibali perhaps.
Kristoff, two years younger than GVA with more big wins s on course too. Here's the top six riders s who have averaged over 2000 points the past three years:
Valverde- 3134
Sagan- 3078
Kristoff- 2592
Quintana- 2144
Contador- 2129
GVA- 2091
(Sagan has a higher average than Valverde over the last four years.)
Degenkolb? He needs to double his career points but at 28 and if he fully recovers from his car crash he could do it. We can revisit him in a couple of years. It should be noted that a 2000 point season this year only puts him on par with Kristoff. He'll need a few 2000+ point seasons to get into our Hall.
Before I move on, is it possible that Robert Gesink is only 30 years old? Seems like he should be at least 40. Look at the photo! He could be Chris Horner's older brother.
The Big Five
Here's a little recap of the Big Five plus one:
- 1. Alejandro Valverde has the widest skill set in the peloton today and that's reflected in his lead in the career VDS standings. The guy has won a Grand Tour. He's won 14 individual Grand Tour stages as well as being a part of two winning TTT stages. He won the Points competition at the Vuelta three times. He's second on the number of Stage races won, including three World Tour stage races.
We have yet to get to his Classic wins. He's got three L-B-L wins. Six other World Tour Classic wins (in La Fleche and San Seb). Numerous other one day race wins. He's won his national road race twice (and obviously gifted more than one road race win to a teammate) and its ITT race once.
And this just scratches the surface of what he's accomplished. Again, note that he has the highest current three year VDS average, even more than Sagan with his 4000+ point season. I can easily see him scoring more than last year in 2017 since he's not gonna hit the Grand Tours so hard. Imagine a Valverde that ever really concentrated on one day Classics. Wow.
Counting back from this year (2016) he's finished in the final VDS points standings: 6th, 1st, 1st, 3rd, 5th, (2011 and 2010 suspended) 1st, 2nd, 3rd, 2nd, 9th, 7th, and probably in the top 5 in 2003, his first big year. He's a Hall of Famer both by his VDS results and by the races he's won and his overall dominance in the peloton.  He belongs.
- 2. Alberto Contador is the best stage racer of his generation. He's won 21 stage races in his career- and that's not counting three wins that were taken away from him while the UCI was appealing his case. (Valverde is second in stage race wins with 15 and many of those are more minor stage races.)  He's won the most Grand Tours as well with 7 (or 8) including being one of two current riders who's won all three GT's-something that only six riders have ever accomplished. He's won seven World Tour stage races. He's rarely even tried to win a one day race. He did win one national road race and Milan-Turin but that's it. His skill set directly fits what is needed to win stage races and in that he's one of the best all time.
With VDS he's won the year long competition twice, finished 2nd three times and has never been out of the top 10. He belongs.
- 3 & 4.  I love how Tom Boonen and Fabian Cancellara are neck and neck in the career VDS standings. They had so many great battles.
First Boonen who combined springtime classic dominance with overall sprinting greatness. EIGHT Monument/Worlds wins. He was so good that it practically makes one believe in fate that he never won MSR. (Sort of like Valverde never winning Worlds.) 14 times he won these Classics: E3, Gent-Wevelgem, K-B-K, Scheldeprijs, DdV.
Then you focus on his sprinting. Won the Green Jersey and 8 individual Grand Tour stages. various minor sprinting Classics. Stage races? He's actually won 7 of these. Granted most of them were smaller sprintier stage races but still of modern riders he's tied for 13th on the list of stage race GC wins with every other rider either tied or ahead of him in these standings being climby guys or Sylvain Chavanel: Contador, Valverde, Froome, Nibali, Quintana, Voeckler, Chavanel, Leipheimer, T-Mart, Vino, Jens!, Wiggins, and Rogers. GC guys who's won fewer stage races than Tom: Cunego, Kloden, Basso, Scarponi, Sastre, Porte, J-Rod, Gilbert, Erik Dekker, Horner, and Heras.
So basically he transcends what it means to be a sprinter.
As far as VDS, he's won the competition twice (in his great years of 2004 and 05) and has been over 2000 points a third time. As we know a sprinter has a limit to how many VDS points they can score so for him to do so well is again transcendent".  (Yes, I am in competition with Chris in heaping the most praise on Tornado Tom. I think using "transcendent" is a nice touch. Your move, Chris.;) ) Regardless, he so obviously belongs in any Hall of Fame that to not rank him as worthy shows that there's something wrong with the system.
- Spartacus belongs too. And I like the way he compliments Boonen: both are Cobble Gods and Boonen adds sprinting while Cance adds time trialing. Cance has got 7 monument wins (MSR, Flanders, P-R) plus 4 Worlds and 2 Olympic time trialing golds (plus a very close 2nd at the Beijing Olympic road race). 10 stage wins in a Grand Tour plus being the engine on another TTT stage win.
VDS-wise, Cancellara is like Valverde a rider who's career length is as important than the 6 year peak which happened from 2008-2013. He's scored in 17 seasons, just six of which he scored less than 1000 points.
5. Zabel Zabel Zabel. Erik definitely belongs but I find myself comparing him more to Oscarito than Boonen or comparing him to Sagan and feeling how much better Sagan is. Sagan is trying to tie him this year in consecutive Green Jerseys, plus Zabel has a Vuelta points jersey too. 20 total individual Grand Tour stage wins (12 at the Tour). Four MSR's for Mr. MSR. He's won three Paris-Tours, a Vattenfall, an Amstel and the UCI world cup in 2000.
But that's it. No Worlds. No other Monuments. I compare him to Freire, who has fewer VDS points (5000 less which isn't something to ignore) but has those gaudy three Worlds wins. I dunno. He belongs in a PdC HoF.
One Of The Greatest of All-Time?
It will be a huge undertaking to score older riders (pre-2000). but if he keeps up with the level he's establishing, Peter Sagan will force us to.  The basic VDS facts: 17,448 points in just seven seasons. Only his first season in 2010 saw him score less than 1000 points (697) and the last five seasons saw him comfortably over 2000 points each time, twice over 3000 and of course last season being the only rider to score over 4000. Two seasons have seen him with the high score for the year.
And he's just 27, just in the early part of his physical prime. He's seventh in the cumulative VDS standings since 2000 and he's at least SIX YEARS YOUNGER THAN THE RIDERS AHEAD OF HIM AND YOU HAVE TO GO DOWN TO 24TH PLACE NAIRO QUINTANA TO FIND THE NEXT RIDER AGED UNDER 30. (Sagan and Quintana are the only two post-2000 riders who have cleared 6000 points in their career and who are under 30 years old.)
That's just ridiculous. My intuition says that Valverde's point totals are extremely high all-time  (The Green Bullet is gonna clear 30,000 points by the time he retires) and Sagan is gonna blow Valverde away if he doesn't do a Jim Brown (and retire early). Sagan is 10 years younger than Alejandro. Another 4000 point year in 2017 might get him into second place on the table above.
To get these high VDS point totals a rider has to be extremely versatile-scoring in multiple types of races and racing often. Think of the five tools of baseball: hit, hit with power, trow, speed and field. The equivalent in cycling would be sprinting speed, climbing ability, time trialing, positioning/racing, and um team work. Valverde for his career grades out at least a B in each of them with A's in climbing and positioning/racing. Sagan has more of a weakness in climbing (so far) and time trialing but is better in speed and probably positioning and equal on team work. It would have been interesting to have seen Valverde lean more towards speed and sprinting earlier in his career and it will be interesting to see if Sagan in a few years works on his climbing skill-which we know he has but rarely chooses to show it off.
Back to Sagan's actual wins. Remember less than a year ago some of us were talking about how he always finishes second? Ha. Two World's titles and one Flanders title are his Monuments to date. World Tour wins at Quebec, Montreal, Gent-Wevelgem, and E3. 2017 will see him gunning for a record tying six consecutive Green Jerseys along with his 11 individual Grand Tour stage wins. You might as well retire his national champ road race as he's won it five years in a row before gifting his little brother last year.
With all these one day wins it would be easy to forget he loves him some stage racing wins. He's won three stage races including Poland and California and in addition he's won tons of individual stages. California is his favorite drum with 15 stage wins so far-and he's tied for second in that race for most days in the leader's jersey (seven-tied with Wiggins.) Yep, he's a sprinter.
Yes, I am giving him the highest possible hype, but damn, already rates inclusion in the PdCHoF and he's only in the physical prime of his career. If you exclude him and looked at riders aged 29-25, you'd say that Quintana was his generation's big talent but Sagan again blows Quintana away. As for peak seasons, he's already got he highest peak four year season total, and five season total-and who here is saying he's reached his peak? Including hjs rookie season, his average VDS score is 2493. That's just another level higher than anyone else. The scary part is that his best years should be in front of him.
Won't someone think of the children?
Can we use FSA-DS to make reasonable predictions? Can we use it to see if Sep Vanmarcke or Michael Matthews has a chance to become an all-time great? Let's see.
Below is a list of current riders, ages between 25-28 with their career VDS totals:
| Name | Age | Points |
| --- | --- | --- |
| Kwiatkowski | 26 | 5405 |
| Matthews | 26 | 5311 |
| T Dumoulin | 26 | 5202 |
| Kittel | 28 | 5127 |
| Demare | 25 | 5065 |
| Bouhanni | 26 | 5000 |
| Pinot | 26 | 4936 |
| Aru | 26 | 4819 |
| Vanmarcke | 28 | 4810 |
| Bardet | 26 | 4737 |
| Ulissi | 27 | 4696 |
| Majka | 27 | 4267 |
| Colbrelli | 26 | 3625 |
| Chaves | 27 | 3296 |
| Kelderman | 26 | 3053 |
| Ion Izzy | 28 | 2992 |
| Dennis | 26 | 2876 |
| Wellens | 25 | 2408 |
Each of these riders is in or is about to be in the physical prime of his career. Its now and the next couple of years that we should see a rider becoming one of the few dominant riders of his generation. And that's what I am looking for here: is there a clue that one or more of these riders is starting to stand out? Hard to see honestly. Kwiatkowski has the most career points and a Worlds road race title but the past year...not good. He needs to show that 2016 was just a weird year and that Sky has a clue on how to use him.
Matthews is starting to score some serious points with back to back 1500+ point seasons but his biggest results are 5 stage wins in the Giro + Vuelta and 2nd at Worlds in 2015. Still his trajectory is upwards and he's worth keeping his eye on. Doom needs some Worlds TT wins or some Grand Tour GC wins. Demare's got a MSR win and...a Vattenfalls win? What-nothing at the Tour?  Not good to see a French sprinter with no Tour stage wins. Bouhanni, a year older, at least has five stage wins in the Vuelta and Giro plus a Points jersey from the Giro.
People love Chaves and he's got a Lombardy win but at 27 he needs to start winning a lot NOW. Lombardy was a start. He needs to show that he's at least in the top 3 stage racers within two years, tops. But with his Yates teammates coming up right behind him and three years younger than him, not to mention Aru and Bardet and Doom and Pinot, all a year younger, its gonna be tough. But it will be fun to see him try. BTW as with Chaves and stage racing, so with Sep on the cobbles except he's a year older than Chaves with younger guys looking to leapfrog him (into Chris' heart).
All of these guys look good and some of them are possibly on the cusp but as of yet they aren't there. Its like there's no standout in this age cohort. That is if you do not add the last two riders in this age group:
| Name | Age | Points |
| --- | --- | --- |
| Sagan | 27 | 17448 |
| Quintana | 27 | 8727 |
Now those two guys have separated themselves from their peers, particularly Sagan but Quintana also.
Don Nairo almost has more stage race GC wins-12 including a Giro and Vuelta-than the rest of the riders in the first table combined (15 with one Grand Tour win). And just to be clear most of the other riders' GC wins are of the likes of Tour de l'Ain or 4 Days of Dunkirk. Quintana is already beating the best of any age.
Possibly one or more of those riders in the first table will join Sagan and Quintana as the dominant riders of their age cohort. In fact I'd bet on one of those guys to blow up in the next couple of years. But still, all time great riders tend to show their greatness early on. Time is ticking on the table 1 riders.
Let's now look at the real kids, ages 22-24:
| Name | Age | Points |
| --- | --- | --- |
| Alaphilippe | 24 | 3075 |
| A Yates | 24 | 2066 |
| Jungels | 24 | 2049 |
| Groenewegen | 23 | 1928 |
| Benoot | 23 | 1800 |
| S Yates | 24 | 1691 |
| Gaviria | 22 | 1248 |
| Vakoc | 24 | 1233 |
| Van Baarle | 24 | 976 |
| Cort | 24 | 896 |
| M A Lopez | 23 | 824 |
| Moscon | 22 | 730 |
| Ewan | 22 | 727 |
| Enger | 23 | 3580 |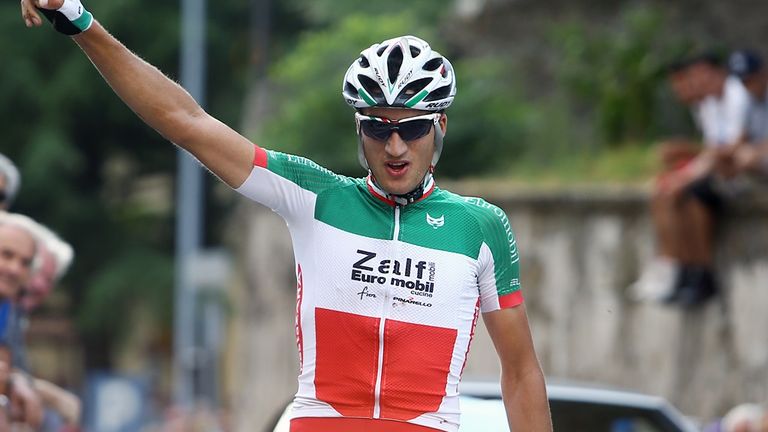 Sure feels like a few of these guys will catch and pass the 25-28 year olds. These kids are still 1-4 years away from the prime of their careers so they are all now showing some amazing potential. Alaphilippe could become the next great hilly Classics rider succeeding Valverde-and one can imagine Ala and Vakoc having many a battle. The Yates bros and Superman might be the main challengers to Quintana as the old generation (Contador, Froome, and Nibali) fade into the sunset. Gaviria might be the most exciting sprinter but Groaner and Ewan and Cort and Enger will have something to say about that. Its just amazing that Gaviria and Ewan are only 22 next year. Benoot's cobbles future still looks bright even after this year. Moscon's future as Beast Mode looks bright as ever.
What this table shows to me is the list of potential all-time greats in the 22-24 age group. There's lots of other riders this age of course but these riders are separating themselves out. Probably in a couple more years a couple of these guys will separate out further. I'll guess Gaviria, Moscon, and Alaphilippe and one of the Yateses as the most likely. You?
What about the sprinters?
Here's a sprinter-only table, but arranged by age. Top four are retired of course:
| Name | Age | Points |
| --- | --- | --- |
| Zabel | 47 | 19560 |
| Petacchi | 43 | 12551 |
| Freire | 41 | 14046 |
| Hushovd | 39 | 11237 |
| Boonen | 36 | 19592 |
| Greipel | 34 | 8246 |
| Farrar | 32 | 6227 |
| Cavendish | 31 | 12927 |
| Kristoff | 29 | 10173 |
| EBH | 29 | 6524 |
| Degenkolb | 28 | 7943 |
| Kittel | 28 | 5127 |
| Sagan | 27 | 17448 |
| Matthews | 26 | 5311 |
| Bouhanni | 26 | 5000 |
| Colbrelli | 26 | 3625 |
| Demare | 25 | 5065 |
| Cort | 24 | 896 |
| Groenewegen | 23 | 1928 |
| Enger | 23 | 580 |
| Gaviria | 22 | 1248 |
| Ewan | 22 | 727 |
In ter es ting.
We've already discussed Boonen, Zabel, and Sagan. Hall of Famers all. After that it gets tricky because as any of us who plays VDS knows, the purer the sprinter the lower the ceiling of possible points they can win in any year. We know its hard for a sprinter to get 2000+ points in a VDS year so to be counted among the highest scoring VDS riders a sprinter needs to have another skill like Boonen's Classics skills or Sagan's Everything else skills. But does that relegate pure sprinters ("pure" meaning that can't climb a lick) to Holmvoka's kinky dungeon?
Even I think not and I think the Vuelta has too few mountain top finishes. But it gets tricky cause so many sprinters do actually branch out a bit. Before we get to looking at the credentials of some of these guys, take a gander at that table above and guess which younger guys are in good position to have a high score before their career ends and which ones won't.
The classic comparison there is the Greipel/Cavendish one. Cavendish being three years younger will out VDS-point Andre career-wise unless he immediately retires. He should (in my mind) out point Oscarito and move towards-but not quite reach- the Boonen/Zabel 19000 point territory.  That befits the dominant pure sprinter of the 21st century, no? Hall of Famer, with a bullet.
EBH. Oy. Sure, he's been on Cavendish's team which might be depressing his score but Degenkolb  was on Kittel's team for all but last year's car crash of a season and do you see Degs complaining? Look how far Kristoff, the same age as EBH, is ahead of him. Speaking of Norway's finest, doesn't it feel like 2017 may say a lot about Kristoff's legacy? Maybe, but it feels even more like after his superb 2015, Kristoff's 2016, a fine year by most any standards, was unfairly thought of as a let down. Kristoff has three seasons now where he's averaged 2592 points-the third highest average in the peloton. Again, here are the six riders who have averaged over 2000 points the past three years with Kristoff comfortably in third:
Valverde- 3134
Sagan- 3078
Kristoff- 2592
Quintana- 2144
Contador- 2129
GVA- 2091
Moving on....Marcel Kittel: Cavendish without the consistency or drive? The real thing to say here is that when a rider relies on just one ability, to go fast, he sets himself up for a rollercoaster of a career. He'll be 28 next year: do you think he can catch Petacchi before he retires?
What's interesting here is that this sprinter list is by no means a ranking of the fastest sprinters of the 21st century. If it was we'd see Andrea Guardini on here or Viviani or Chicchi. It would be fun to analyze these sprinters to see if positioning is more important than raw badass speed- which was NOT something that Eleanor Roosevelt talked about. (Right Elvisgoat?)
Bling: Its illuminating to see Matthews and Sagan right next to each other in the table above. Sagan is one year older but has over three times as many points. But Matthews is so obviously talented: will the move to Giant finally unleash the beast within? Would anyone be surprised if he want on a Saganesque tear the next couple of years? But will it happen?
Oscarito! Oscar Freire...now that Peter Sagan is so rampant it is kinda easy to think of Freire as a beta edition Sagan, right? A lot of the same skill set: a sprinter, not the fastest but he got the job done, who can climb some. raced a lot of stage races too-I have memories from 2010 with Oscar and Valverde going at it hard on sprinter stages at Pais Vasco. Not as consistent as Sagan and that kept his VDS career total to 14,046-around Sam San, Cunego, and Nibali. He never hit 2000 points in a year either (his high was 1825 in 2007) but over his career he kept hitting high notes every couple of year. His career was NOT one of a 4-5 year peak: it was a mixing of really good years and meh ones. He scored 120 points in just his second year and had seven later years below 1000 points.
His VDS scoring hints at his boom or bust results list: three Worlds gold medals plus a bronze another year), three MSR's (10 top 10's in all), a Gent-Wevelgem, a Paris-Tours, a Vattenfalls, a Green Jersey to go along with 12 stage wins at the Tour and Vuelta and three Branantse Pijs wins. (He also won Tirreno-Adriatco once.) But looking at his career I keep looking at the misses. He tried the Ardennes for his whole career yet never podiumed. I keep looking for a Plouay win...not there. Seems like he would have liked Quebec and Montreal, especially Quebec, but he kept doing the Vuelta. Outside of Gent-Wevelgem, he never really gave the cobbles a serious go.
So is he of PdCHoF quality? Since 2000, yes. At the moment he's the fourth best sprinter type though eventually I think Cav will probably overtake him and probably Kristoff and Degenkolb too at least. He's got a better career than Petacchi though less focused.  Matthews, Demare and/or Bouhanni might. Gaviria sure looks like a hit. Probably one of Cort, Enger, Groaner, and Ewan will equal Oscar. (Its fun seeing the various sprinters climb the all-time leader board, which is something VDS is good for.) With that many sprinters with equal or greater VDS totals by the time they retire, its hard to say he was dominant enough to warrant inclusion. But we'll see if his Worlds and MSR wins will make a difference.
Okay I'm rambling. Any ideas on where to take this as well as corrections would be appreciated.
PS I went there- Lance Armstrong career total, if he had not been busted would have been around 19957. I suppose if Contador had ben around then, Lance could have learned lots.