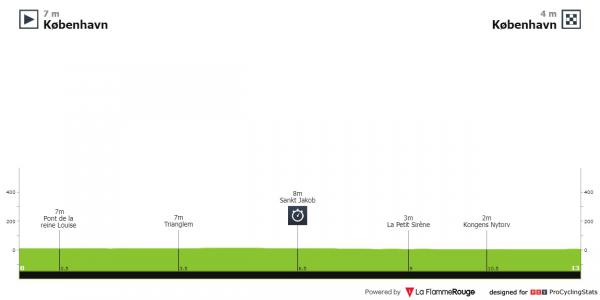 14.2k and I predict that the phrase, as a flat as a pancake is used as often as you'll hear shocking testimony over the next couple of days.
It's semi technical but from my memory of Copenhagen, unless barriers are used to change the flow, most of the corners can be taken at speed. It's one for the specialists. Enough stretches to open up on and though it's not a TT of the sort of distance that the TT men would like to see, it's no prologue either.
The Favourites
Top of the pile will be the top man himself. Ganna will have been targetting this ever since the course was announced. He's warmed up by blowing pretenders Affini and Sobrero out of the water at his National Championships and is the man to beat. Next up is, knee jerk reactions not withstanding, Wout Van Aert. How much has injury effected him? Well we might not know for a few stages but unless his training has been severely interrupted, 14.2k shouldn't be an issue and he's shown time and time again that he doesn't require a great build up to be ready to win when a race starts.
Next up would have been Bissegger but with a DNS at his Nats, no team announcement for the Effers as yet and the issues at Suisse, it would take a brave person to put money on him to win. Then follows an assortment of TTers (Kung, Tratnik, etc), GC types (Roglic, G, Pog, Vinegar, McNulty, etc) and those that can TT and will have been training with this stage in mind (Asgreen, Mads, MvdP, etc).
My outsider for the day will probably be Catteneo but of course if you don't trust me (and who would) have a look at the startlist and make your own minds up.
The Rules
In this game, only the race results matter. You're not committed to keeping the same riders throughout the series, you make fresh picks before every race. Our overall competition is just the sum of individual race scores. You're eligible for the overall even if you miss some races.
Pick 4 riders for the upcoming race. The order of your picks doesn't matter. All of your riders can score.
Riders score points down to 10th place. Less popular riders score more points than heavily-picked favourites. See below for scoring details.
The strict entry deadline is the official start time of the race, the neutralized roll-out or Départ Fictif. Be warned - if your post is timestamped one minute late your entry won't count! So do remember that there's no disadvantage to getting an entry in early, even the day before, because you may always change your picks up until the deadline. Feel free to rethink your picks when it emerges which riders are more or less popular with other players. If you make changes, post your revised 4 picks in a reply to your original post.
The Scoring
The last 3 races will be secret entry between the top contenders… To avoid defensive picking.
When we say top contenders we leave the number open because who knows how many will be within striking distance...
We will notify you by email if we need you to do a secret entry.
The Results
Head over to msbee's spreadsheet to check how you fared. Any issues, please email us on... DeeEyewhy@YourOwnTime.com